The Mediterranean Diet is not necessarily a diet, but a pattern of eating that has multiple benefits for health and prevention of chronic disease.1 It has been correlated with lower triglyceride levels,2 decreased inflammation,3 and lower incidences of cardiovascular disease, stroke, type 2 diabetes, and Alzheimer's disease.2–5 The following is a guide showing the basic principles of the Mediterranean Diet which may help you in adopting similar eating patterns that can benefit your overall health.
---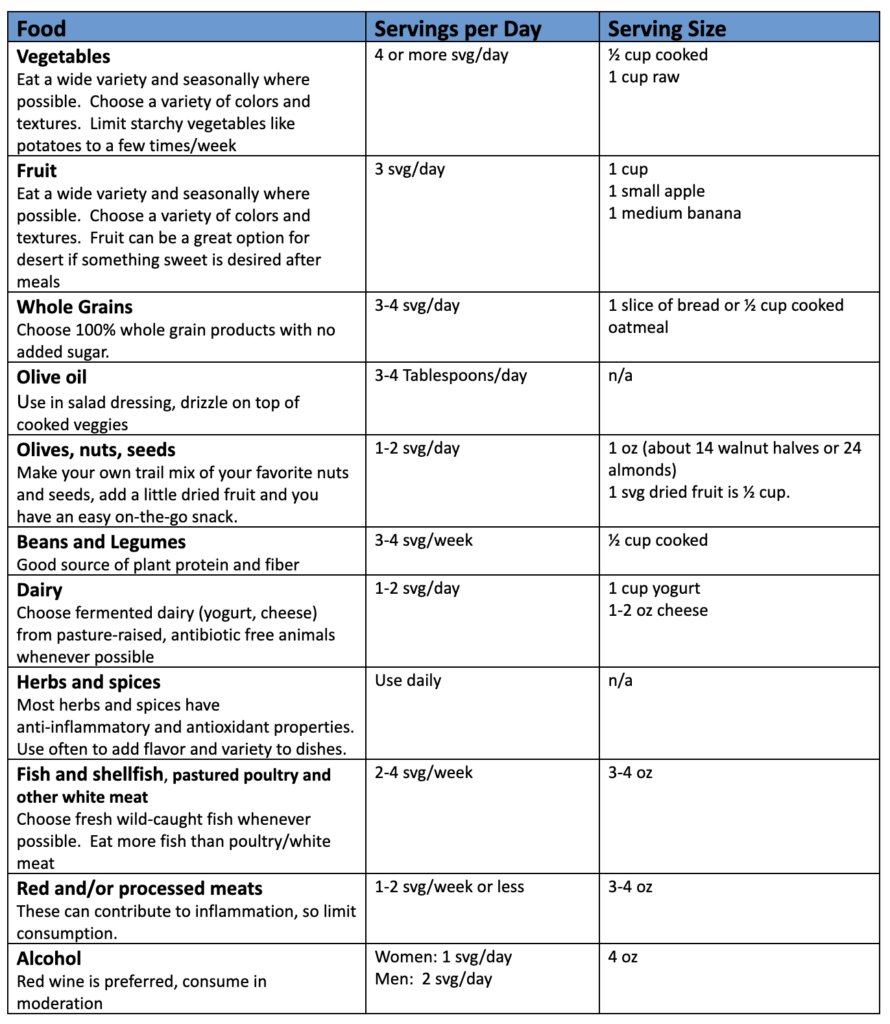 Other key components of the Mediterranean Diet include:1
Adequate rest
Regular social interactions
Regular physical activity
Water and herbal infusions for beverages
Here is a great visual representation of the Mediterranean Diet.1 Use it as a guide when meal planning or thinking about what to have for your next meal.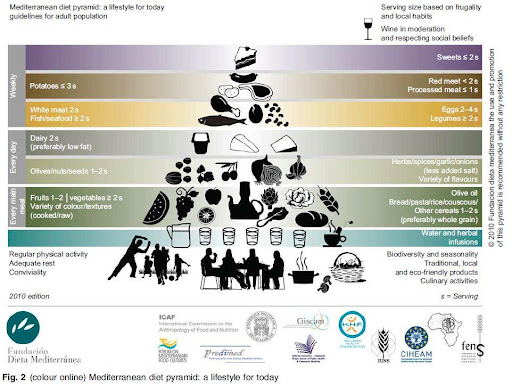 References
1. Bach-Faig A, Berry EM, Lairon D, et al. Mediterranean diet pyramid today. Science and cultural updates. Public Health Nutrition. 2011;14(12A):2274-2284. doi:10.1017/S1368980011002515
2. Christina-Maria Kastorini, Haralampos Milionis, Katherine Esposito, Dario Giugliano, John Goudevenos, Demosthenes Panagiotakos. The Effect of Mediterranean Diet on Metabolic Syndrome and its Components. Journal of the American College of Cardiology. 2011;57(11).
3. L Schwingshackl, G Hoffmann. Mediterranean dietary pattern, inflammation and endothelial function: A systematic review and meta-analysis of intervention trials. Nutrition, Metabolism, and Cardiovascular Diseases. 2014;24:929-939.
4. Publishing HH. Mediterranean diet quick start. Harvard Health. https://www.health.harvard.edu/staying-healthy/mediterranean-diet-quick-start. Accessed June 14, 2018.5. Gaby A. Nutritional Medicine. second. Fritz Perlberg Publishing; 2017.